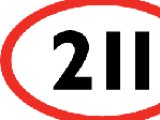 211-Day:
On our way to implementing 211 on a metropolitan scale
Montréal, February 11th, 2017—The Information and Referral Centre of Greater Montréal (IRCGM) and Centraide of Greater Montréal are proud to highlight 211-Day, especially since the implementation of a 211 service took a major step forward in the Greater Montréal area in 2016, by launching its first service in Laval. Let us remind you that 211 is comprised of three components. First, there is a telephone service available 7 days per week, from 8:00am to 6:00pm that can be reached with an easy to remember, three-digit telephone number: 2-1-1. Second, there is user-friendly web site, 211.qc.ca, that includes some 3000 social and community resources within the metropolitan territory. Third, thanks to the collection of statistical data on the requests made, it becomes an analytical tool.
 «Thus, 211 is indispensable in quickly and efficiently guiding anyone with social needs towards reliable resources. It is also valuable to elected representatives and planners who wish to have specific insights on the evolution of social needs within different towns, neighborhoods or boroughs and on the unavailable resources that would help them », states Mrs. Pierrette Gagné, IRCGM's executive director.
By becoming the first city in the Communauté métropolitaine de Montréal (CMM) to acquire 211 last October, the City of Laval marked the first step towards 211's implementation in all of CMM's municipalities. The MRC de l'Assomption made a similar commitment in November 2016 and therefore, by spring, will become the first MRC in the metropolitan area to offer this service to its citizens. For its part, the City of Montréal launched the 211 web site last December.
For several months now, IRCGM and Centraide of Greater Montréal have been pursuing their awareness campaign with the municipal and provincial government decision-makers, as well as, partners within the community sector, in order to deploy this service in all of the MMC. «It is an essential analytical and information tool in the fight against poverty and social exclusion», mentions Mr. Mario Régis, vice president Social Development of Centraide of Greater Montréal.
 Let us note that it was during the «Je vois Mtl» event that these two co-leaders of the 211 project, Centraide and IRCGM, made the commitment of progressively implementing this service on the CMM territory by 2017 for the 375th anniversary of Montréal.
There is no doubting the importance of a 211 service for vulnerable people such as seniors, families, new arrivals and youth. We wish to point out that IRCGM has received financial support from the Ministère de la famille within the Québec amis des aînés (QADA) program, in order to contribute to the deployment of a 211 service in all of the MMC for the next year and in the Montérégie area by 2018.
 211 has already been implemented in the Capitale-Nationale and Chaudière-Appalaches areas, in the MRC de la Haute Yamaska, as well as, many Canadian provinces and numerous American states.
According to IRCGM's executive director, 2017 will be crucial for the future of 211 in the Greater Montréal area. «If municipal authorities in the Montréal Metropolitan Community seize the opportunity to offer this service to their fellow citizens, they will be giving them access to a local service of added value and at low cost », concludes Pierrette Gagné.