211 Greater Montreal: Proud to Blow Out its First Anniversary Candle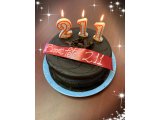 Montréal, February 11, 2019 — "It is with great enthusiasm that the 211 team of the Information and Referral Centre of Greater Montréal celebrates 211 Day this year, as do the fifteen 211 services implemented across Canada", stated Mrs. Pierrette Gagné, Executive Director IRCGM, on this day which highlights the 211 service. "In fact, following its first year of existence, the results of the assessment made are indeed very promising. To this day, there has been 444,249 visits to the web site and 26,840 calls to a team of counsellors able to guide callers towards local socio-community resources. Our service meets priority needs expressed by CMM counsellors and elected representatives who share an ongoing interest in helping vulnerable people," explained Mrs. Gagné.
It was in January 2018 that 211 Greater Montréal saw the light of day in the Communauté métropolitaine de Montréal (CMM). Every citizen of the 82 CMM municipalities and MRC Vaudreuil-Soulanges had access to the www.211qc.ca web site and then in April, the 2-1-1 telephone service. The nearly 4 million citizens of the metropolitan area that need help can reach 211, 7 days per week from 8:00 a.m. to 6:00 p.m. in 200 possible languages or can consult, at all times, the 211 Greater Montréal web site, listing 6,000 social and community resources.
Mrs. Lili-Anna Pereša, President and Executive Director Centraide of Greater Montreal, a 211 partner, stressed that "the importance of 211 for citizens, social and community organizations is invaluable. The need for food assistance, help with job search, support for seniors and mental health to name a few, is very important in the metropolitan area. 211 has a real social impact for it offers tools that help citizens find the best resource and enables organizations to adapt their services to better meet the needs."
In Québec, the 211 service has already been implemented for eleven years in the Capitale-Nationale, Chaudière-Appalaches and MRC de la Haute-Yamaska areas. It has also been available since November 2018 in MRC des Jardins-de-Napierville. More than 60% of the Québec population now has access to this essential service. It was in 2001 that InformCanada, which groups the Canadian information and referral centres, as well as, Centraide/United Way, obtained authorization from the CRTC to reserve the 211 telephone number for Canadian information and referral community centres.
Finally, Mrs. Gagné would like to thank the CMM municipalities, as well as, their organizations for their support of the 211 Greater Montréal project. "Your support and collaboration for this project are reflected in the positive assessment we are presenting today. We can all celebrate 211 Day with pride and confidence," she concluded.
The Information and Referral Centre of Greater Montréal
The Information and Referral Centre of Greater Montréal offer bilingual, social and community, information and referrals to Greater Montréal citizens and counsellors, either by telephone, online or through printed directories. It also manages the 211 Greater Montréal service, two addiction helplines: Drugs: Help and Referral and Gambling: Help and Referral, as well as, the TeleCounseling programme for excessive gamblers.
Centraide of Greater Montreal
Centraide of Greater Montreal is active within the territories of Laval, Montréal and the South Shore. Nearly 57,000 volunteers are involved within some 350 organizations it supports and more than 22,000 volunteers devote their time to organizing its annual campaign. In Québec, Centraide is present in 18 areas and receives support from companies, private, public and para-public institutions, as well as, unions. The funds raised are locally distributed to break the cycle of poverty and social exclusion.
Sources:
Marie Vaillant
Director of Communications
Information and Referral Centre of Greater Montréal
Telephone: 514-527-1388, ext. 215
Cellular: 514-889-9535
marie.vaillant@211qc.ca
211qc.ca
Annick Gagnon
Public Relations Advisor
Centraide of Greater Montreal
Telephone: 514-288-1261, ext. 242
gagnona@centraide-mtl.org
centraide-mtl.org