211 Greater Montreal Service Available in 200 Languages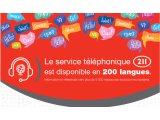 News release – For immediate release
211 Greater Montreal Service Available in 200 Languages
Montreal, June 17, 2020 – The 211 Greater Montreal information and referral service is accessible in over 200 languages, using an interpretation service by videoconferencing. This allows for information about available community resources to be shared with individuals who do not speak English or French. During this health and economic crisis, it is important that no one is left behind.
"The interpretation service enables people from various communities to explain problems they are facing and to obtain the contact information for resources closest to their homes and capable of providing assistance. It is important to point out that the 211 service does not offer support services; however, putting people in contact with available resources, which callers are often unaware of, is a first step toward finding a concrete solution," explains Pierrette Gagné, Executive Director of the Information and Referral Centre of Greater Montreal and Manager of 211 Greater Montreal.
To use the service, simply dial 2-1-1. The 211 agent will put the caller in contact with an interpreter capable of speaking their language. It's free and confidential.
Calling all community organizations and social services
211 Greater Montreal is inviting community organizations to refer to it anyone in need of support and who speaks a language other than English or French. A number of tools designed to be shared on the Internet and through social media are available for free download, here, for the purpose of informing your clients about our service.
About 211 Greater Montreal – Managed by the Information and Referral Centre of Greater Montreal, 211 Greater Montreal is an information and referral service with access to over 5,000 social and community resources. It operates as a telephone line, a bank of online resources on the 211qc.ca website and a social analysis tool for informing elected officials and community organizations about citizens' needs as well as their unmet needs. The service is free and confidential. It is funded by the Communauté métropolitaine de Montréal, Centraide of Greater Montreal and the Quebec government. 
Call line: 2-1-1
Website: https://www.211qc.ca/
7 days a week, 8 am to 6 pm. Free and confidential.
-30 –
For information, please contact:
Lucie Kechichian, Director, Communications and Community Relations
Lucie.kechichian@info-reference.qc.ca
438-940-5668