Come and celebrate our 60 th anniversary!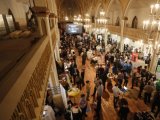 Wednesday, October 19 2016, will be held a Cocktail Reception celebrating Information and Referral Centre of Greater Montreal, IRCGM's 60th anniversary. This event will take place at the Salon 1861, between 5 and 7 P.M., in the presence of people from community services, political and artistic personalities.
At this occasion will be unveiled IRCGM's book relating the 60 years of the Centre, its evolution in the social context from the beginning until now.
To take part in this activity, please contact Manon Côté, Assistant Director, at 514-527-1388, extension 229.