Meals-on-Wheels: How to Eat Well When Mobility Is a Struggle
By:
Marie Vaillant, Director of Communications, 211 Grand Montréal
When you are a senior with reduced autonomy, eating well can be a challenge. This is also the case for people with mobility difficulties, after surgery for example, or going through temporary health problems. Fortunately, there are food aid services that can help in these situations: Meals-on-Wheels programs.
Having a meal is worth its weight in gold, and thanks to the Meals-on-Wheels programs, more than 2,000,000 meals are delivered at home in Quebec, allowing 30,000 people to eat each year. [1]
What is a Meals-on-Wheels program?
Meals-on-Wheels programs involves the preparation of food as well as the distribution of meals at home by volunteers. They prepare hot meals, frozen meals, mashed meals. Several organizations provide hot meals for lunch, as well as frozen meals for days during which Meals-on-Wheels is not doing delivery.
Most organizations deliver a hot lunch meal from two to six days a week, others can deliver the meal at the end of the day.
Volunteers can also help set the table and prepare for the meal.
Who benefits from meals-on-wheels programs?
This service is for seniors aged 65 and over with reduced autonomy, and for people with disabilities.
Commonly, you must have a reference from a CLSC (Local Community Service Center) to benefit from this service. Click here to find your CLSC.
What kinds of dishes can you expect?
It is not common for Meals-on-Wheels programs to prepare special dishes or to adapt to special diets. This being said, meals are cooked without excess fat or salt and the quantity of sugar in desserts can be reduced upon request for diabetic customers.
In general, meals contain fish, eggs, beef and chicken on a weekly basis. Special attention is given to people with food intolerance, allergies or with any other restrictions.
A meal usually consists of a soup, a main course with vegetables and a starchy food (pasta, potatoes, rice) depending on the dish, and a dessert.
What is the cost of a meal?
Meals are reasonably priced, usually between $4 and $7 per meal.
Meals-on-wheals in Québec 
There are 150 volunteer organizations located in 16 different regions of Quebec.
Each region of Quebec is involved in its own way with Meals-on-Wheels programs depending on the needs of customers and the particularities of their environment. In Montreal, for example, to facilitate the delivery of meals, Santropol Roulant uses bicycles equipped with insulated boxes year-round. Volunteers at Chevery3's Meals-on-Wheels service, in the Lower North Shore, deliver meals with snowmobiles during the winter and with off-road vehicles during the summer.
Visit the Regroupement des popotes roulantes website to find Meals-on-Wheels programs anywhere in Quebec!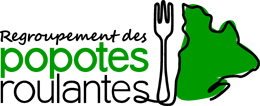 ---
[1] Source : Entrevue TVA, 28 mars 2017, avec Annie-Michèle Carrière, directrice du Regroupement des popotes roulantes