Phone and Chat
7 days, 8 am to 6 pm, 365 days per year

Online Directory
Responsive Web Design

Social Analysis
Statistical reports on met and unmet needs
Information and referral service on social and community services
3 digit number - easier access for vulnerable groups (seniors, immigrants, low-income people)
Multilingual support (200 languages)
Free, confidential
Personalized response by Information & Referral Specialists
Proximity service for citizens
Fully bilingual site
Geolocation of agencies and programs
Annual verification of agencies' information
Search by organization name, categories or keywords
Detailed record of the services of each organization
Detailed reporting:
Caller profile
Unmet needs
Agencies and programs referred
Area served by agencies
What is 211?
211 is an information and referral service that refers citizens towards community organisations, public and parapublic services and programs near them.
An essential service
211 service helps curb poverty and social exclusion, giving the people with non-urgent social needs rapid information on the social and community resources that will help them find solutions to move beyond their precarious situations.
211 is a free service, largely accessible especially for low-income people, seniors and newcomers.
With the help of statistics from calls and web frequency, 211 sheds a light to government officials and decision-makers on social needs and in determining missing resources that are needed.
211 is available everywhere in Canada.
211 is an ally of other N11 services: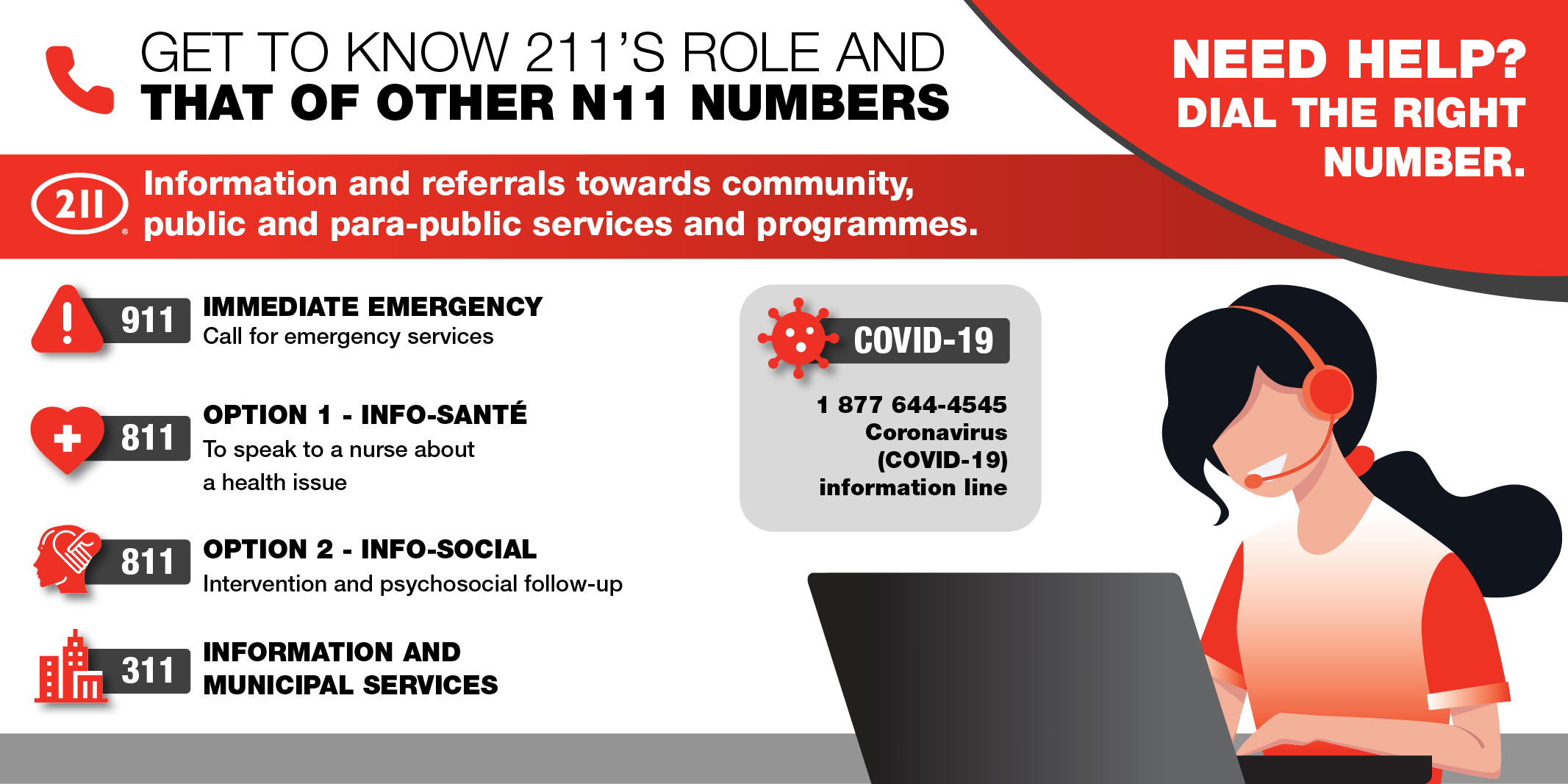 211 Greater Montréal
211 Greater Montréal is managed by the Information and Referral Center of Greater Montréal .  211 Greater Montréal was launched in January 2018. Its major partner is the Communauté Métropolitaine de Montréal (CMM). Centraide Greater Montréal and Québec government also support the service and its activities.
211 Greater Montréal serves the areas of Greater Montréal (of the Communauté métropolitaine de Montréal), and the MRC of L'Assomption, Vaudreuil-Soulanges and Jardins-de-Napierville. Since December 15th 2020, 211 Greater Montréal is also available in all Montérégie, Laurentides, Lanaudière and Outaouais to help citizens face social difficulties related to COVID-19 pandemic.
4 million people are living on the CMM territory, which is half of Québec population.
See map of territory below.
211 is available everywhere in Québec during COVID-19 pandemic
Thanks to the assistance of the Emergency Community Support Fund, an Employment and Social Development Canada programme put in place to support the community sector during the COVID-19 pandemic and to Centraide United Way Canada, 211 is now available across Québec.
Until March 31st, 2021, 211 Greater Montréal serves all the areas of Laurentides, Outaouais, Lanaudière and Montérégie, plus all the Communauté Métropolitaine de Montréal. All the other regions of Québec have access to 211 thanks to the 211 Québec regions operator.
During the first wave of the pandemic, 211 operators in Québec saw a spectacular rise of calls from people looking for help. Overall, phone calls and visits on Websites in Québec jumped by 61% and 25% respectively, from March to August 2020. It was therefore essential to make 211 service available to the 40% of Quebecers who still didn't have access to it yet.
Need more info?
Read our FAQ.  
211 Greater Montréal territory as of December 15, 2020.